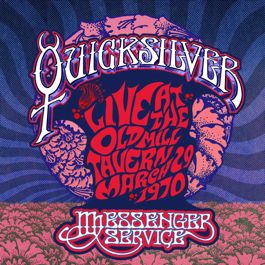 by , Psychedelic Sight:
http://psychedelicsight.com/9420-quicksilver-live-cd/
The holy grails for Quicksilver Messenger Service fans are, alas, the stuff of dreams, and no more.
There will never be a classic studio album that captured the original lineup of the San Francisco band in its fiery glory - a record that enshrines them in the psychedelic music pantheon.
Nor will there surface another live set of the primo quality of
"Happy Trails."
Into the gap have come a stream of live recordings, some barely above bootleg quality.
A startling exception came in April, with the release of
"Live at the Fillmore - June 7, 1968,"
a double CD from Purple Pyramid (Cleopatra) Records.
Now we have the label's follow-up, "Live at the Old Mill Tavern - March 29, 1970." It captures Quicksilver as it entered (or re-entered) the Dino Valenti era, as a six-piece, before the singer-songwriter turned the remains of the band into his supporting cast.
The late Valenti often got the Yoko Ono treatment for the downfall of the original psychedelic Quicksilver, justifiably so to some extent. "From many accounts," Dave Thompson writes in the liner notes, Valenti "was already treating his bandmates as though they were hired hands."
But this set finds Valenti bringing strengths to the lineup, as does ace pianist Nicky Hopkins. The band had just released "Shady Grove," which (perhaps tellingly) gets no promo push in the set list. Instead, we get five new Quicksilver songs (out of eight), none of them yet recorded.
Personnel on the single-CD album are Valenti, Hopkins and the classic quartet - Gary Duncan (guitar, vocals), John Cipollina (guitar), David Freiberg (bass, vocals) and Greg Elmore (drums). The audio is better than you'd expect, a bit trebly but OK.
This being live Quicksilver, there's "Mona," and it's a corker. Clocking in at a relatively restrained 8 minutes. Guitarists Cipollina and Duncan are up to their old tricks, weaving lines like jazz masters. Check out the killer wah-wah, the power of Elmore's tribal pounding and the bar-band roll of Hopkins' keyboards.
Valenti's singing on "Mona" is strong and direct, hard to fault - there's a powerful bit when the band steps up to sing gruff harmony, on the "need you baby and it ain't no lie" line.
The album opens with "Subway" ("I'm just a country boy") which wouldn't find its way on record until 1970 ("What About Me"). It's focused and obviously the most-rehearsed number.
The next song, the snappy blues "The Truth," came out in '71. And the other solid original, the hard rocker "Mojo," remained on ice until 1972.
"Baby, Baby," another song from "What About Me," is so new Valenti half-seriously asks the audience for suggestions on how to make it work: "We've never heard it before we walked up on the stage." It has a ragged charm, unlike the lame eco-protest "Rain" that follows.
For some, the five new songs will simply be prelude to two extended jams with the harp player James Cotton - adding up to about 23 minutes.
The first piece ("Stepping Out") is a terrific piece of blues rock, with Cotton snake-charming the band. You half expect to hear Paul Butterfield's vocals kick in. The lengthy second jam ("Flip Flop and Fly") is more of the same, with extended soloing.
Liner notes writer Thompson argues that this record is proof that, at least for the moment, "one of the finest jam bands in history (wasn't) becoming a folky-rocky-pop vehicle for singer-songwriter Valenti." History, he writes, "can take a flying jump."
Liner notes
: Bo Diddley, composer of "Mona," lived on some land outside Gainesville, Fla., in the late 1970s. My pal Bill wrote a feature article about the old
Chess Records
rocker, who wasn't getting much run in those days. Newspaper editors around the country were eager to print the story, though. I was along for the ride when Bill brought Diddley a stack of clippings.
Diddley was gruff but nice enough. He spent much of our hourlong visit complaining about the people who'd robbed him of his music and his money. At one point, he broke out one of his famous cigar-box-shaped guitars and played some of those immortal riffs, standing there in a field.
When he opened the guitar case, he pulled out a T-shirt advertising some oldies concert and threw it my way (I wore it to tatters).
Anyway, I asked Bo Diddley what he thought of Quicksilver Messenger Service and their half-hour takes on his songs. He looked at me through half-closed eyes and said he'd never heard of them. But, he was sure, they were robbing him of his music and his money.